ESTABLISHED FAMILY-RUN BUSINESS

Bulgariavillas

artcove

.

com

FRIENDLY, RELIABLE SERVICE
Pamporovo
the sunniest Bulgarian mountain resort
Pamporovo has an exclusive climate with soft winters with about 120 sunny days during the skiing period. The significant influence of The Aegean Sea appears here and the skiing season starts from mid December to mid April. The average air temperature is  - 3 ° C. The gentle profile of the mountain with its rounded slopes and summits makes Pamporovo particularly suitable for beginners. But there are also difficult ski runs like the Giant Slalom run which is an excellent exercise for every skiing expert. The most difficult ski run is "The Wall".
All major ski runs start from the peak of the mountain, where the TV tower is located.


Pamporovo is a modern ski resort in the heart of the Rhodopi mountain. It is the most southern skiing resort in Europe and the sunniest Bulgarian mountain resort with wonderful snow throughout the whole season. Pamporovo is situated on 1650 m above sea level at the foot of peak Snezhanka (1926 m). It is 240 km far from the capital Sofia and 85 km from Plovdiv.

All ski runs are safe and maintained in a very good condition. More than 100 highly qualified ski instructors fluent in different languages are here to teach both beginners and intermediate skiers and snowboarders. Ski rentals are available near the ski runs and the lift stations

There are a lot of shops available in the resort. A shopping centre is available in the area of Perelik and Murgavets hotels. Almost all hotels have restaurants and day bars. Different types of restaurants and places to eat are available in the resort and near the ski runs. The Emergency SKI PATROL service is available 24 hours a day. Ambulance and clinic (with doctor and nurse) are available, as well as first aid,  on all ski slopes. There are fully equipped and functioning hospitals in the near towns of Smolyan and Chepelare. Highly qualified dentists are available in Pamporovo or Chepelare. There are pharmacies in the resort as well.

Either if it is your first visit or you have already been in this unique mountain, you will always want to come back!
Properties close to: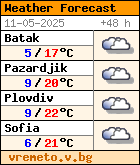 Bulgariavillasartcove.com: ©Copyright 2004-2007, Artcove Ltd., Bulgaria. All rights reserved. The page is maintained by
VS