ESTABLISHED FAMILY-RUN BUSINESS

Bulgariavillas

artcove

.

com

FRIENDLY, RELIABLE SERVICE
Plovdiv
Plovdiv is the second biggest town in Bulgaria after Sofia and is 130 km. far from it.Spread over seven hills, it is situated on the Maritsa river and in the heart of the Trachian Valley - the biggest valley in Bulgaria. .All the symbols of Bulgarian spirit are focused in the town of Plovdiv. Here you can find remains of Thracian, Greek and Roman civilizations and the town itself is a unique mixture of modern and ancient worlds. Once you visit Plovdiv you will always want to come back here!

Plovdiv's old part, called the Old Town, with houses from the National Revival period (18-19th century), is an imposing open-air museum situated on the three hills of the ancient Trimontium. One of the most remarkable sights of the town, the Ancient Theatre (a well-preserved Roman theatre), is located there and is still used for open-air performances.

The centre of the modern town is a huge main square across which the Post Office and the elegance of the renovated Hotel Trimontium face each other. From the square, the main street leads to Freedom Park, with its fountains and colored lights. This is a perfect place for a relaxing walk or you can sit for a drink in one of the numerous cafes around.

Plovdiv is a trading centre and market for the whole Trachian Valley and an agricultural area producing tobacco and livestock. As a manufacturing centre, Plovdiv has cigarette-making, food-processing, and woodworking industries; textiles, metal, leather, and chemicals are also produced here.

You can use all different types of transport in Plovdiv - public transport - buses and trolley buses, taxis or rent a car. Everything is at a quite a low price and the service is very good.

Several restaurants in the old town serve good Bulgarian food in elegant surroundings. The Alafrangite and the Trakiiski Stan occupy the nicest nineteenth-century buildings. The Paldin is another excellent place where you can go for a meal. In the new town Gremi has a palm-filled garden and good grills and fish, while Rimski Stadion serves a range of Bulgarian dishes and pizzas on the site of the Roman stadium.

The Sports Centre is a modern outdoor facility for water sports, almost 4 miles long, has been the host of many international competitions in rowing and kayak. Located in a park near the Plovdiv Zoo, it is a popular place for biking, fishing and recreation.


There is everything you need in a modern town like Plovdiv if you need to go shopping - large supermarkets like Billa and Metro, big shops like Practiker where you will find everything for your house and garden, fashionable shops along the main shopping street which is a pedestrian zone and pleasure to walk along. Here you will find all famous brands of clothes and shoes and everything you need.
Properties close to: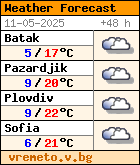 Bulgariavillasartcove.com: ©Copyright 2004-2007, Artcove Ltd., Bulgaria. All rights reserved. The page is maintained by VS