ESTABLISHED FAMILY-RUN BUSINESS

Bulgariavillas

artcove

.

com

FRIENDLY, RELIABLE SERVICE
Velingrad
one of the biggest and most attractive spa resorts in Bulgaria
The town lives mostly on tourism and wood processing. With around 80 mineral springs, mild climate and beautiful nature, it offers ideal conditions for recreational tourism. The average summer temperature is from to 20°C to 25°C. The mineral water of Velingrad combines the curative qualities of other mineral water rich areas in Bulgaria, such as Hissar, Banya and Narechenski Bani. The springs are used for treatment of illnesses of the motive system, the stomach and the intenstinal tract, liver, skin, etc.

The town's most popular natural sight is the karst spring of Kleptuza in Chepino. The karst spring is the biggest in Bulgaria, having an output of 570 litre/second. A beautiful lake with restaurants and a small park lies close to the spring.

The town welcomes its guests in variety of modern hotels, restaurants, bars. It offers a couple of swimming pools - Olympic size and for children with lovely water attractions. It has got a lot of shops, hospitals, College for Tourism and many other schools.

The town is 40 km from Pazardzhik and 65 km from the second biggest city in Bulgaria Plovdiv. There are regular bus routes to both towns.

Velingrad is a small but very beautiful town in the Rhodopi mountain, famous for its mineral water springs. One of the biggest spa resorts in Bulgaria has just 26,500 permanent inhabitants but welcomes over 200,000 local and foreign tourists a year.

Velingrad sits at 750 metres above sea level, surrounded by wonderful Western Rhodopi. It was declared a town in 1948 when three neighbouring villages – Kamenitsa, Ludzhene and Chepino - were merged to form the town's quarters of the same names.

The mineral waters (from springs and wells) vary considerably in temperature, mineralization, radon, silicic acid and fluorine content, and are suitable for treatment of a wide range of diseases. 9000 litres of water per minute spring from the five thermal and mineral deposits in Ladjene, Kamenitza, Chepino, Rakitovo and Kostadinovo. The annual duration of sunshine is about 2,000 hours. The relative air humidity ranges from 65 to 75 per cent.Surrounded by age-old pine tree woods, the town favors abundant sunshine. This exclusively rare and valuable combination has a beneficial influence on the process of ionization (negative ions are prevailing) and are of definite therapeutic importance.
Properties close to: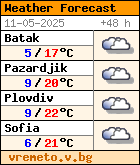 Bulgariavillasartcove.com: ©Copyright 2004-2010, Artcove Ltd., Bulgaria. All rights reserved. The page is maintained by
VS